Raheja The Leela Sky Villas
The Leela Sky Villas Delhi is going to be the tallest building in Delhi where every 3/4/5 & 8 BHK Apartment will have its own personal swimming pool. Most of the apartments in this project will have a view of Rashtrapati Bhawan, ITC, Taj, Delhi Ridge, and Connaught Place. With a floor to floor height of 13 feet it would be perfect to call these apartments "Bungalows in Sky". With features like Cinemas, Shopping Mall, Food Courts, Showrooms, Luxury Residences in the same complex, The Leela Sky Villas is going to be one of a kind project in Delhi. Other outstanding highlights in this residence include the highest helipad restaurant* in India, with the World's highest Glass Bottom Pool, which loudly expresses the premium one of a kind luxurious experience that it will provide to its residents. The residential project has features which are not like any other residence that could ever cross your imagination, with its grand display and intricate attention to even the tiniest of details they are going to deliver an experience that would hold an onlooker's sight in awe of its supreme self. Only a selected few will have the experience to the extraordinary lifestyle that Raheja Navin Minar & The Leela Sky Villas has to offer.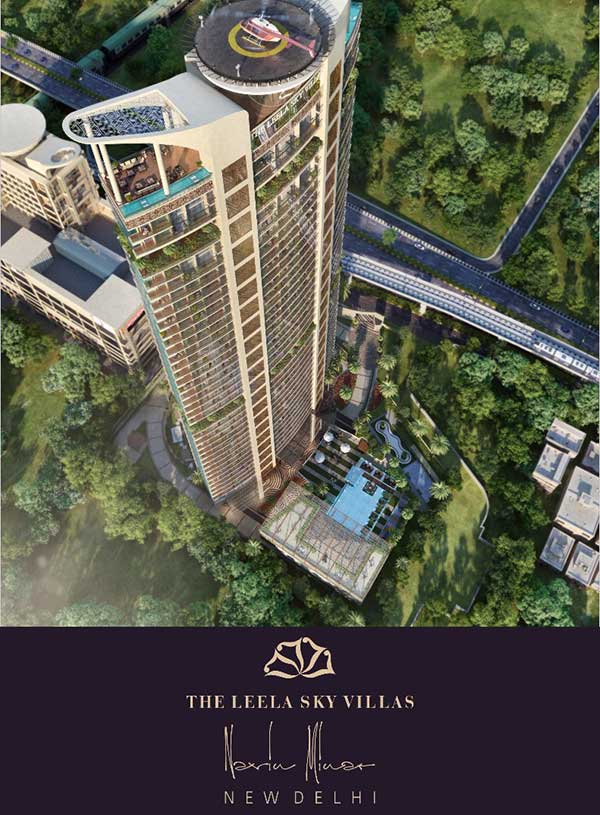 Raheja Navin Minar Apartments or otherwise known as The Leela Sky Villas are the first ever managed residence that are 5-star hotel branded with free building maintenance services and special services. These special service include Housekeeping to take care of menial tasks around your home, Laundry so you would not have to worry about your clothes even in the slightest, Concierge is made available at your beck and call to take care of your daily needs, Valet to save your precious time by taking care of your vehicles for you, Room Service if you ever need anything delivered at your doorstep, spa management so you can relieve all your stress without ever leaving the apartment complex, and many more such services. This residence in the sky will also showcase the highest planned recreational club/Helipad Cafe-Bar with the highest glass bottom pool to provide you an entertainment experience worthy of your stature. This will definitely be your own property designed and built to match the living standards of a 5-star hotel. The Leela Sky Villas contains 3,4,5 BHK apartmemts starting from approximately 5.70 Cr, with a spacious floor to floor height of 4 meters.